Ginger is an emotional support app that provides coaching, therapy, and psychiatry services. The app is designed to help users manage their mental health and wellbeing by connecting them with licensed professionals.
The following is not intended to provide medical advice. If you are experiencing symptoms or have concerns about your health, please consult with a medical professional. Additionally, I would like to clarify that the following is not a review of Ginger's therapy or psychiatry services, as I did not use them. Instead, this is simply a personal review of the Ginger app and it's coaching services based on my own experiences alone.
Introduction – What is Ginger?
I was intrigued when I heard about Ginger, an emotional support app that offers coaching, therapy, and psychiatry services. Fortunately, with the advancement of technology, there are now more accessible ways to manage our mental wellbeing. Ginger is one such app that offers a range of mental health services, including coaching, therapy, and psychiatry, all conveniently located in one place. I got the opportunity to use Ginger because it was included as a benefit in my health insurance plan. In this post, I'll share my experience with the Ginger app and service, along with the pros and cons of the app.
The Pros and Cons of Ginger
Ginger Pros:
Basic coaching services might be covered at no cost to you. I found out that it was covered under my health insurance plan so I thought it was worth a try.
Chat-based coaching sessions: This could be good for those who are unsure of call or video sessions.
Privacy: I appreciate FaceID locking the app every time I went into it.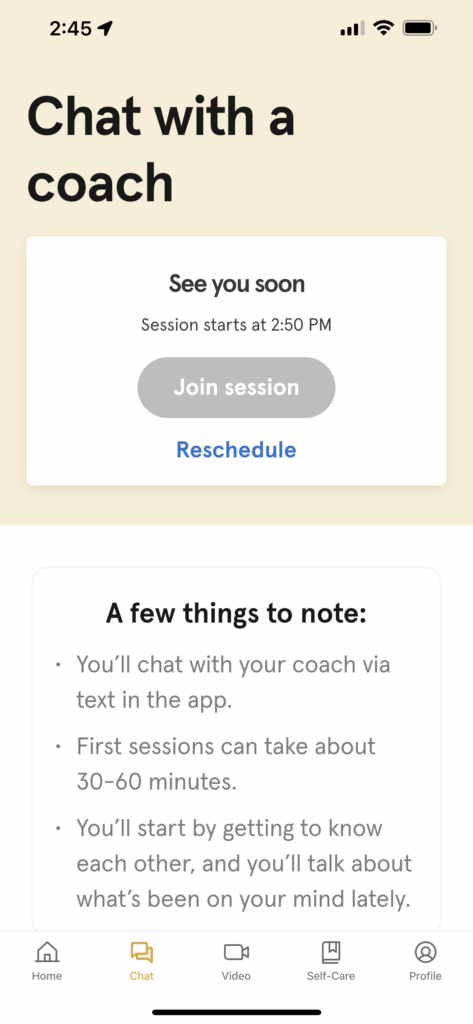 Ginger Cons:
Surprise insurance claim: After my first coaching session with Ginger, I received a surprise $230 claim from my insurance, which I was unsure about. I called Ginger, and a representative confirmed that I had not participated in therapy or psychiatry sessions and should not be billed for those services. They also informed me that $230 was not the price for those sessions with Ginger. During our conversation, I mentioned that I would be changing insurance soon and inquired about what I needed to do. The representative explained that I did not need to do anything unless I intended to keep using Ginger coaching, which costs over $100 per month. This was intriguing because I had previously believed that Ginger was accessible only through insurance coverage. It was helpful to learn that one could pay for Ginger coaching independently if it was a service they wanted. The representative provided me with the number of the company that appeared on my insurance bill to contact next. After calling the company, the representative informed me that the $230 was just an onboarding fee and that my insurance would cover it entirely. While I was relieved that I did not have to pay the bill, I would have appreciated a heads-up that it would appear on my insurance as a claim and that it would be covered. I understand that navigating health insurance can be complicated and that providers may not always know what will be covered.
Onboarding could have been smoother: a survey popped up during the first session, and I was unsure if I was meant to complete it while chatting with the coach. The first coaching session was not really a session, and while this is okay, I would have appreciated having been told this before expecting anything out of the first appointment.
Coaching session replies could be faster: My coach's replies could have been faster, but I understand the limitations and costs of the app. Slow replies meant the session felt like it didn't cover much ground.
I would have appreciated if the app notified me with sound and haptic feedback every time the coach replied, given that there were often multiple minutes between each reply. I believe I had to exit the app entirely or shut off my phone to get a notification.
My Thoughts and Experience with Ginger Coaching
Before my initial appointment, I tried out some of the breathing exercises in the app. Ginger and Headspace are part of the same company, and I have used Headspace before, so these exercises were not new to me. There are also some self-care exercises in the app to do on your own.
During my first coaching session, I was assigned my coach. Although I was told that I could change coaches later on, I didn't feel the need to do so. I was told I'd be matched with the same coach for all the sessions on the app. I think that's pretty neat since you can build a rapport with them over time. It also adds a sense of comfort and familiarity, especially when you're discussing personal stuff.
My first coaching session was little more than hello, my coach explained how coaching was not like therapy or psychiatry, they asked if I wanted to do therapy or psychiatry which I declined, and then booking the next appointment. Once I confirmed the next appointment time, it showed the coach as offline. A few hours later, my coach sent me some articles from both the Ginger app and 3rd party websites, as well as a YouTube video.
A week later, I had my second session with my coach, and they asked me about what I wanted help with. I wasn't exactly sure how to put into words what was on my mind, but I gave it my best shot and tried to get some of my thoughts out there. The coach offered me resources in the form of articles and YouTube videos, which they sent over. I acknowledge the effort the coach put in and I was also reassured that the app was functioning correctly and that I could explore therapy or psychiatry on the app if I ever needed it.
Although I appreciated the effort the coach put in, the coaching session felt brief due to the considerable amount of time between each reply. While I understood the limitations and costs of the service, I couldn't help but wish for faster replies. However, I also realized that if the coach was just chatting with me, they would be waiting for my replies as well. So, slow responses, whether from the coach's end or mine, made it feel like we didn't cover much ground during the session. Despite this, I understand that the app has its limitations and I appreciate the coach's efforts.
It's important to note that the coach's ability to assist me was limited as they were not a therapist or psychiatrist. It's crucial to understand the coach's role on the app and their scope of practice, which is to provide support, guidance, and resources for personal development and growth. While the coaching sessions may not be a substitute for therapy or psychiatry, they can still be useful for gaining clarity and making progress towards personal goals.
Conclusion: Final thoughts on Ginger
Ginger is a good app to have in your back pocket for when you need it. It's great that the basic coaching services are covered by some health insurance plans, and the chat-based feature is a great option for those who may not be comfortable with phone conversations or video calls.
However, it's important to keep in mind that Ginger's services should not be considered a replacement for professional medical treatment. If you are experiencing any symptoms or concerns, it's always best to consult with a licensed healthcare provider. Overall, I believe that Ginger is a valuable resource for individuals looking for additional support and guidance for their mental health.